The apple of your high…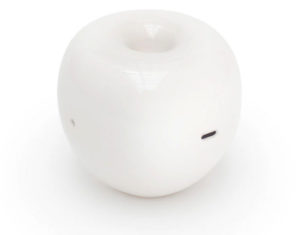 In the future, all humans will be allotted one ceramic apple to smoke their weed out of. This is by official decree from the newly appointed galactic overseer, Rebus X. Rebus was born in a synthetic apple orchard on the planet Nebulack. He grew up a weed farmer and led the rebellion against the despotic regime of Fraglock the Terrible during the Andromeda skirmishes of 2157.
The galactic peasantry heralded the arrival of Rebus X who flew through the Kuiper belt in his THC fueled rocket tractor. His coat of arms is a white ceramic apple and pot leaf, and he believes that true knowledge and salvation comes through the subconscious reckoning one gets whilst high. Imprisoned for a hundred years his citizenry was now free to explore the deepest recesses of their own minds.
In his tenth year as grand overseer Rebus X appointed a contingent of time travelers to go back to our present day and disseminate the symbolic and iconic white ceramic apple pipe so that they may know freedom and one day fight the oppressive Fraglocks of our world.
-A Summerland Fruit Fantasy of a noble quest.
Featured image credit: Photographer Sean Berrigan  IG @dabdaddi902 and Stylist IG @fallforvee