Puffs like sugar… sugar kisses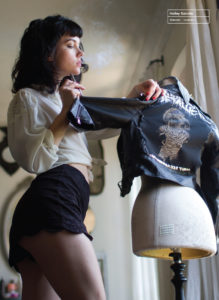 Remember that super cute edgy girl you simultaneously had a mad crush on and were scared shittless by in high school? She would walk by in class or in the halls, and the young babe-breeze she created as she brushed by you would smell like messy cherry-lipstick, vanilla-smacked gum, with weed & peach schnapps perfume… topped with a little leather & lace, and a whole lot of trouble.
Ah, those whiffs of her alluring aura you wished you could be smothered in. That adorably dangerous air you wanted to breathe in deeply for the rest of your life. The intoxicating smell of sass, sensuality, and total lack giving a shit about what anyone thinks…
This is the essence of every puff of the infamous Suicide Girls new line of 100% Cannabis Oil vapes. Dangerously delicious. Sweet and sassy. Sexy and satisfying. With three different kinds of moods to get into: Chill, Hustle & Zero… there's a marijuana ménage à trois of fun feelings to be had for everyone. Just a few puffs and you're right where you want to be… sugar kissed and high AF.
[...]