Hot flower on flower action…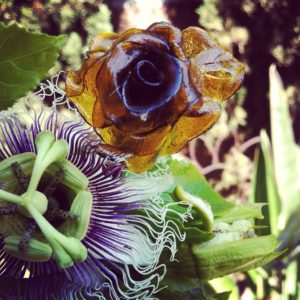 In Ridley Scott's fantasy classic Legend, Mia Sara bounces her pretty princess way through a forest so full of Spring, it's bursting at the branches with puffs of cross-pollinating plants sexing it up in an orgasmic orgy of playful pistils and stiff stamens. This hot flower on flower action is displayed in the endless streams of pollen and spores thrust about into the air as Princess Mia Sara calls for her wild child forest boy, played by a young giant middle-toothed grinning, pre-dentisized, Tom Cruise.
While the fertile floral fetishizing in Legend might have been a nightmare for anyone with hay fever, we believe it's intoxicating elevated artistry may have inspired the bud-blessed bouquets by Flowers on Flowers: the cannabis florist who brings beauty to bud.