A status symbol first, a lighter second.
Tsubota Pearl's Sigaretta stick lighter is a study in elegance and class and only to be used for the most finely rolled joints or elaborately designed pipes. Please use the common convenience store lighter to light your cigarettes or your pharmacy bought candles. The Sigaretta's sleek Japanese design will admittedly light anything, but one would be best served to light only things of utmost importance and reverie… like a ceremonial peace pipe, or disposing of a secret communique from the ambassador of Sri Lanka, or a love letter from an heiress written aboard an ill-fated luxury
liner. The Sigaretta is the lighter for the job!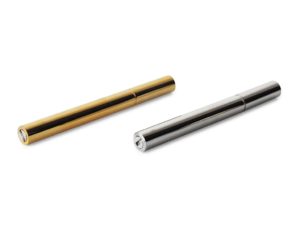 One should even scoff at the mere mention of identifying this piece as a mere lighter. Tsubota Pearl Sigarettas are, in reality, mini lighthouses conveniently tucked away in the hopes of being used to illuminate the milestones of your life… and the premium pre-rolls of your days.