Tools of the Fade Trade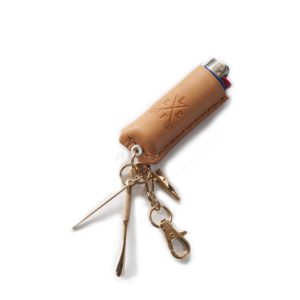 Today's journeyman cannaseur would be nothing without his or her tools. It would be like a chef without their knives or a rodeo clown without his chaps.
Leef & Co. have created a stylish and practical tool case to keep all your beloved smoking utensils in one handy place. The star of the show is your lighter case with over a dozen different designs to choose from. It doesn't so much as hold your lighter in place as it embraces it like an overzealous grandmother hopped up on love and excitement.
Wave goodbye to frenzied couch searches or drawer rummaging for all your lighters and clips and scrapers and weed oriented doo-hickeys. With Leef & Co.'s tool case they have all assembled in the form of one super group of cannabis accoutrement. It's basically like the Travelling Wilbury's of pot tools. Slap'em on your car keys and let them jingle and jangle out your jean pockets to let your chums know you're coming. Like your high school janitor with all the keys but just a lot mellower.