Breakfast at Spliffany's
Small or large joints lovingly pre-rolled in a decorative Altoid like tin. Frankly they had us at "joints". Hepburns must employ a full time clairvoyant because it's as if they know exactly what one wants: Quality hash, expertly rolled, discreetly packaged and ready to smoke. Not just any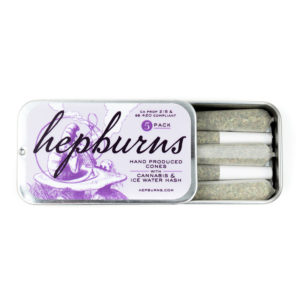 hash mind you but "Ice Water Hash!" This means that each hash cone is run through it's very own private iceberg, ferried to the mainland by means of tugboat and then sledded across the country via a pack of trained Huskies. We may be slightly off as to what actually constitutes Ice Water Hash but you get the picture.
The point is you're going to get nice and high and then you're going to sink deep into your Papasan chair and you will thank the Cannabis deities for bringing Hepburns into your life. A life that sadly enough may be too hectic to take time out to roll your own joints. That , or you have terminal "butter fingers" and your joints normally come out looking like mangled earthworms.
Fear not, Hepburns has heard your siren song and they have a tin full of goodness for what ails ya'.