Cannabis Chique…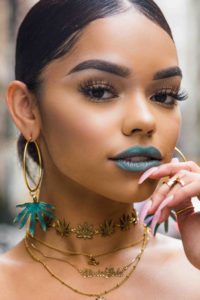 Gone are the days of the ostentatious potleaf medallion hanging off a fake gold rope chain. Blunted Objects brings style and craftsmanship to the cannabis community and makes it more than ok to show off your affinity for getting high. Adorn your ears with some Killer Leaf Hoops as you go out for the night and paint the town green. Or maybe you aren't the partying type and require something more understated because you are attending the funeral for your favorite aunt who was a Quaker. In that case a "710 Dabbed Out" charm bracelet may do the trick.
Or perhaps you are more of the cerebral sort who loves nothing more than curling up with a good book on your favorite island getaway. Your eyesight is bad however because you used to watch Saturday morning cartoons one foot away from the television set, and now you wear eyeglasses. Problem is there is a seagull near your chaise lounge who is a bit of a prankster and he is making it a point to knock of your prescription eyewear with his wing as a show of dominance. For this all too common occurrence Blunted Objects has a very cool" Trip and Chil" eyeglass chain that ensures you never lose your shades or specs.
Ultimately, your jewelry and accessories act as peacock feathers and we understand that it's all about attracting the opposite sex. Maybe you want to make a good impression on that new hunky fella you've been eyeing at the dispensary. In this case you ought to sex it up a bit and look into the "Tiny Bud Leaf" belly ring.
What's that? You are saving yourself until marriage and thus your body is a temple until then and your only paramour remains the Angel Moroni? Unfortunately, Blunted Objects does not sell a fashionable padlock for your chastity belt. But perhaps they can interest you in a "Gypsy Dancer Leaf" belly chain? It might be just right for the wedding night.
Smoke a joint and think about it.